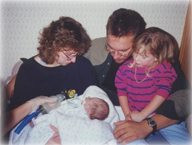 Nickolas Allen Borchardt was born September 30, 1996, the second child of Dawn and Neal Borchardt. A beautiful baby boy, he weighed six pounds, nine ounces, but immediately after his birth it became apparent that something was terribly wrong.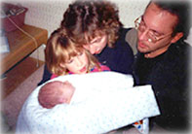 Shortly after birth, he was airlifted to the Neonatal Intensive Care Unit at Children's Hospital in St. Paul, MN. This transfer was a traumatic, unexpected event for the Borchardt family. Several tests were run. Everything possible was done to try to keep Nickolas alive. The staff at Children's Hospital found that Nickolas had Potter's Syndrome, a fatal congenital disorder.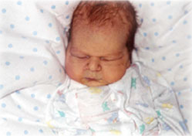 Dawn and Neal were completely unprepared for Nickolas' transfer to another hospital. The traumatic trip was stressful and unexpected. There was no time to gather items that could be useful during the journey.
They conceived the idea to create a "care package", consisting of a tote bag filled with useful items, such as a phone card, a notebook and pen, a disposable camera, toiletries, some snacks and bottled water. The handy bag of items would be given to families who might experience a situation similar to the Borchardt's -those who might have a newborn unexpectedly transferred to another hospital. And so was born "Nickolas' Gift".
One care package is given to the parent that accompanies the critically ill infant in the transfer. Nickolas' Gift has heard from many of these parents along with nursing staff, expressing their thanks for the helpful items during such a traumatic time.